Our first virtual conference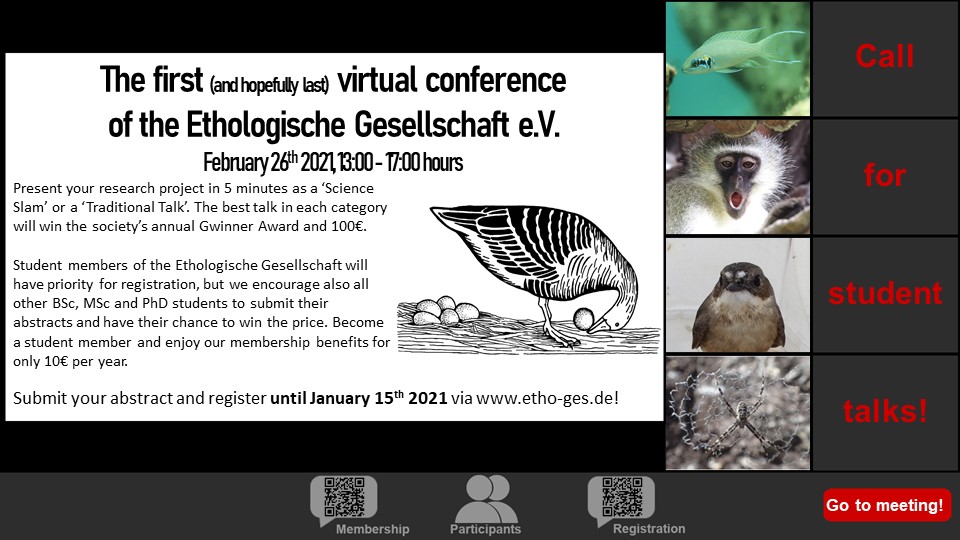 ---
Thank you for joining our first (but hopefully last) virtual conference, which was such a great experience!
When? 26.02.2021, 13:00h – 17:00h (CET)
Where? Zoom
Fees? The conference was free of charge.
Registration deadline? Registration has closed.
Please find here our programme and abstract booklet
---
The local organisers of the next Annual Meeting and the council of the Ethological Society have taken the difficult decision to cancel our traditional annual meeting. We waited until last minute in the hope that in-person meetings might be possible in February 2021. However, we came to the conclusion that it might not be safe neither for participants nor for organisers.
At the same time, we did not want to miss the opportunity of meeting you and learning about the great work that our community members have accomplished during the challenging last months. We also understand that our annual meetings are especially important for our early career researchers (ECR) in order to connect and receive feedback. Thus, we (mainly driven by our ECR reps!) decided to organise the second-best option, i.e., a virtual conference focussing on contributions from BSc-, MSc and PhD-students.
Attending and presenting at this conference was entirely free for everybody. All ECR in the field of Behavioural Biology were encouraged to submit an abstract for a talk. Talks were short (5 min) and could take either a traditional form, i.e., a classic conference-style presentation, or a science slam, i.e., a presentation of any form that communicates the science in an entertaining way. Of course, everybody who wanted to listen to and discuss with the next generation of ethologists, could register as well.
We wish to thank all ECR who presented their research and for making this a special and inspiring conference. Special thanks go to our science slammers for communicating their research in such a creative and entertaining way. In addition, the conference was very well attended – thank you for joining us and asking many clever questions after the talks or in breakout rooms. Furthermore, we're delighted to announce that Michelle Beyer, Jennifer Colbourne and Purbayan Ghosh were awarded the Gwinner Awards for best traditional talk, science slam and poster, respectively.
See you all (hopefully in person) again 2022 in Berlin!
Ethologische Gesellschaft e.V.
---